About Us
Bio - Dwight Sheppard, Albany
Dwight Sheppard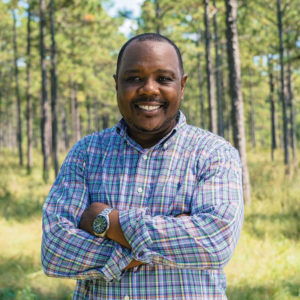 Dwight Sheppard was born and raised in South Georgia. He returned to his roots in 2006 to do what he loves most – environmental consulting.
After completing high school in Early County, Dwight enlisted in the Marine Corps and served a tour in the Persian Gulf War. After receiving an honorable discharge, he furthered his education at Fort Valley State University and received his Bachelor's degree in Agronomy in 1998. Dwight continued on to Alabama A&M University to obtain a Master's in Plant & Soil Science in 2003. While there, Dwight spent countless hours conducting research on pollution sources by using Remote Sensing and GIS technology. He also helped develop techniques to use unmanned aerial vehicles for farming practices. As a result of his research, Dwight was selected by the International Geoscience and Remote Sensing Symposium to travel to Sydney, Australia to present his thesis. After graduate school, Dwight worked as a Geographic Information System (GIS) Analyst from 2003 to 2006 for International Paper Company, Inc. before accepting his position as GIS Manager at F&W Forestry Services, Inc.
Dwight is a committee member for Georgia Forestry Association (GFA) as well as a board member for Flint Riverkeeper, which are non-profit organizations that advocate for the environment and the people who depend on it as well. Dwight and his wife, Alfreda, have two sons, Devin and Dylan.
The Flint River needs YOU! And so does FRk.
Get involved today by visiting our Membership page and joining the FRk to start receiving information about our efforts to protect this vital resource for our region.