Get Involved - Investing in FRk's Work
Flint Riverkeeper thoughtfully leverages available methods of remedy, exercising the rights afforded to the citizens of the United States to engage in public processes, protect private property and rights, and insure public benefits of the health and value of our river system. Flint Riverkeeper's board of directors, established and governed by by-laws, meets more than ten times per year to discuss programmatic issues, oversee strategic policy initiatives, develop and support a budget, and insure adherence to internal schedules and controls.
Flint Riverkeeper staff is a dedicated group of well-educated and experienced professionals,  steeped in advocacy for water resources and southern culture. Flint Riverkeeper was established in the financial storm of the Great Recession, at a time when the Board felt there was no other choice than to launch advocacy for the Flint due to an avalanche of destructive proposals and out-of-control government actions that were bleeding dry the river's and her tributary creek's and aquifer's resources. FRk has weathered the storm, has accomplished much, and is a strong, stable organization who's influence is strengthened by our vast network of supporters and allies.
There is much work left to do. Let's do it together!
Your membership investment insures that Flint Riverkeeper maintains a high-level of effectiveness addressing the problems that have damaged this river system, and promoting the benefits the Flint and her communities offer.
Be a part of the resolution in partnership with us through your donation.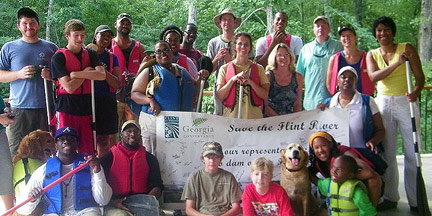 If you have a specific way in which you would like to serve in the efforts to protect the Flint, please let us know when you send in your membership or by contacting us at (229) 435-2241 or emailing us at jessica@flintriverkeeper.org.
Be sure to bookmark this site and keep an eye on our calendar and blog to make sure you don't miss out on exciting activities that will put you in touch with our river and with others working to protect it.
Thanks so much for your support and we look forward to hearing from you!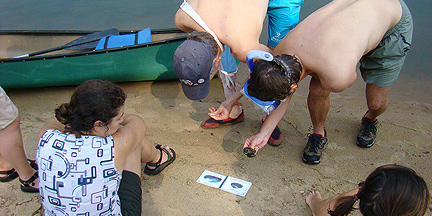 FRK is dedicated to educating people in the Flint River watershed and beyond on the importance of this very unique river system. The Flint is a special treasure in our area and in threatened by numerous issues that many are not even aware of.
If you are interested in scheduling a Flint River presentation for your civic, community, school or church group, please contact us at (229) 435-2241. Guided Flint River and tributary paddle trips are also available for your group. FRK maintains a fleet of canoes and kayaks for educational trips on the river.
The Flint River needs YOU! And so does FRk.
Get involved today by visiting our Membership page and joining the FRk to start receiving information about our efforts to protect this vital resource for our region.