Miller Coors, Flint RiverKeepers hold river cleanup
As of Friday, September 23, 2011
A cleanup crew from
MillerCoors
and the Flint
RiverKeepers
show off a
styrofoam
cooler plucked from a grassy area in the river Friday.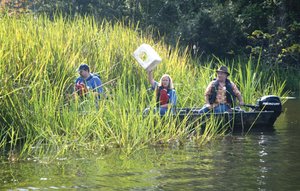 ALBANY, Ga.: — When it comes to making quality beer, clean water is vital.
Water quality is one reason why the higher-ups at Miller Brewing Company decided more than 30 years ago to build a plant here in Albany.
So, in the midst of Water Stewardship Month, the
MillerCoors
family joined with the Flint
RiverKeepers
Friday to spend the morning cruising up and down the Flint River plucking trash and debris from the craw of mother nature.
"Our quality of life really depends on water," Gordon Rogers, executive director of the Flint
RiverKeepers
said Friday. "Without clean water, our natural habitats die, our
foodchain
collapses and we as humans would struggle to survive. So it is very vital."
MillerCoors
CEO Tom Jones, who came down from Chicago to participate in the cleanup efforts, said Friday that water is the key to Miller's quality product and that safeguarding water quality and protecting the environment in general is a big priority for the company.
"You can't make quality beer without quality water," Jones said. "I'm proud to be part of a corporate family that realizes the importance of keeping our natural resources pristine. You have a beautiful river here in South Georgia and the
MillerCoors
is committed to helping keep it that way."
While corporate environmentalism is hardly a new idea,
MillerCoors
and its parent
Molson
Coors' embrace and concern for the local environments where their plants are located is rare, especially in Georgia.
This week, a textile plant located on the
Ogeechee
River between
Screven
and Chatham Counties near Savannah agreed to pay $1 million to help reclaim portions of that river after their discharges into the river have been blamed for a massive fish kill that claimed more than 38,000 fish and obliterated species of bass and crappie along a 70-mile stretch of waterway.
It was something Rogers couldn't help but mention Friday.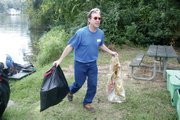 MillerCoors
CEO Tom Jones carries trash from a boat at the
Cleve
Cox boat landing Friday.
"Right down the road on the
Ogeechee
River there's a situation that is the exact opposite of what we have here in Albany," he said. "I'm so thankful that we have a partnership with such a strong corporate citizen like
MillerCoors
."
While dozens of
MillerCoors
employees and Flint
RiverKeepers
volunteers did manage to snag a couple dozen trash bags full of trash and debris from the River, David Dixon — the Albany
MillerCoors
Community
Liason
, along with Rogers, noted how little there was in the sections they were trolling.
"I can't believe there isn't more," Dixon said. "I mean, it's a good thing. But usually you can look up on the banks and just see cups and trash."
Between the
RiverKeepers
and Keep Albany-Dougherty Beautiful's Float the Flint events, the groups typically pull tons of debris out of the river each year — from tires to household garbage and cans.