Why Georgia Should Not Waste Taxpayer Money on Reservoirs
From The SaportaReport
By Guest Columnist APRIL INGLE, executive director of the Georgia River Network
Our state's leadership shouldn't prioritize building new reservoirs as its first solution to our water supply needs when other alternatives are faster, cheaper, and will provide more water.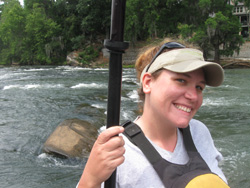 We have existing water supply reservoirs sitting full today that no one is tapping for water supply, like Hall County's Cedar Creek Reservoir. We have 20 existing flood control lakes that are sitting full today and were identified by the Georgia Soil and Water Conservation Commission as good sources of water supply for metro Atlanta. We have reservoirs that have been permitted but haven't been built because there aren't enough customers to pay for them, like Walton and Oconee Counties' Hard Labor Creek Reservoir.
We can also gain nearly 200 million gallons of water per day if we were to aggressively pursue the four top water conservation and efficiency strategies: fixing water line leaks, pricing water to encourage efficient use, retrofitting existing buildings, and landscaping to minimize waste.
Additionally, we could raise the full-pool level of Lake Lanier by two feet, at relatively moderate cost, and gain upwards of 26 billion gallons of additional water in storage with every gallon available to meet the needs of downstream communities, lake users, and water supply.
The full pool level at Lake Lanier now stands at 1,071 feet above sea level. A two-foot change would raise the full pool to 1,073 feet, but the Army Corps of Engineers owns land up to 1,085 ft. above sea level. A study, estimated to cost $2 million, is needed to identify the impacts of raising the pool level. Impacts are estimated to be minimal and would probably include making retrofits to shoreline erosion structures and marinas, as well as raising one bridge.
Click on link at the end of this column to look at a comparison between new reservoirs and the alternatives.
Not only are existing reservoirs, conservation and efficiency faster and cheaper, they are "shovel-ready" so they can immediately create construction jobs.
Other metro areas in the country have faced the same water supply issues that we now face in Metro Atlanta and have chosen the faster, cheaper, shovel-ready route.
New York City completed the world's largest toilet replacement program from 1994?1997, resulting in a savings of 70?90 million gallons of water per day through the replacement of 1.3 million toilets. The program saved the city over $200 million by deferring expansion of water supply and wastewater systems. From a water use peak in 1988 New York's per capita water use declined 34 percent by 2003.
Boston made a commitment to water efficiency, and it uses less water today than it did in 1911. Boston reduced its total water demand by 125 million gallons per day. The city avoided $500 million in costs by investing $40 million to reduce its demand for water.
Seattle's water conservation efforts have resulted in the city using less water now than it did in 1950. Seattle reduced its total water demand by 40 million gallons per day. The city avoided $100 million in costs by investing $30 million in water efficiency.
It's clear that spending large sums of public money on new reservoirs should be the option of last resort when it comes to securing future water supply for Georgians.
In this economy, it is surprising that new reservoirs are even part of the conversation, especially when the proposed funding ($300 million over four years, $46 million this year) probably won't go far enough to get new water supply from even one new reservoir, but would go a long way with other strategies. The people of Georgia want our leaders to pursue the most cost-effective, commonsense options that are readily available.
So why would our state's leadership prioritize building new reservoirs as their top solution to our water supply needs? As is often the case when our government makes illogical choices, the answer can probably be found in learning who stands to profit.
The decisions before us now should not be based on who will profit from building the reservoirs or from selling water and lakeside property in the future – they should be based on good public policy that helps all Georgians prosper now.
Click here to go directly to SaportaReport to view April's Guest Column
http://saportareport.com/blog/category/guestcolumn/
Comparison of reservoirs and alternatives